Obituary for Guillermo Antonio Sicard de Camps
Guillermo Antonio Sicard de Camps

16 October 1997 -weekend of 25-28 August 2018

Our beloved son and brother Guillo (aka Guillito - G-Man - or just "G") lost his life in the woods of Norton, Ohio after years of struggling with depression and expressive language disorder over the weekend of 25-28 August 2018.

Guillo was born in Akron General Medical Center on 16 October 1997 to proud parents Sarah de Camps, MD (originally from the Dominican Republic) and Fausto Sicard, MD. His older sister Cristina's first words when she saw him two days later in the maternity room was simply "Wow." Guillo and his sister shared the numerous activities that siblings do, including going to Sea World and seeing Shamu the Killer Whale (Orca) while it still existed in Aurora, Ohio and playing T-ball and soccer on common teams in the North Canton YMCA and Plain Township/Diamond Park systems. It was a joy to see them play.

Guillo attended St. Paul Elementary School (North Canton, Ohio) where he had a "happy-go-lucky" demeanor and would make his classmates laugh and he would exasperate some of his teachers. He easily made friends in grade school and was famous for his "Guillo being Guillo" moments: as a Cub Scout in Pack 35 during a discussion on integrity and morality by his Pack Leader John Black about why it was important "not to cheat", Guillo eagerly raised his hand and answered, "Because you might get the wrong answer!"

Scouting led him into a close circle of friends (and their awesome, caring fathers) which would lead to camping and hiking during warm summer days, but also brutally cold winter cabin stays in Camp Mannitoc by Peninsula, Ohio; and even -5F conditions in Seven Ranges Scout Camp for the Klondike Challenge, where amazingly all survived to tell their tales. This created a unique bond between the young men and led to expanding family friendships.

Guillo's scouting days then led to his interest in multiple sports over the years, playing with Plain Local / Diamond Park soccer, The Piranhas (coached by Mike Grabowski); St. Paul School and CYC basketball; St. Paul School football (coached by David Moeglin and Coach Baca); and Ski Club.

But Guillo's greatest passion was and always has been BASEBALL. He grew up a devoted St. Louis Cardinals fan, and his favorite player was Albert Pujols. So it was no surprise when he joined North Canton Little League Baseball (Indians/Reds/Yankees/Athletics and All-Star teams) and always ask for number 5 for his jersey number. He threw right, but batted left. He was a very good hitter, and he practiced hitting whiffle balls, tennis balls and even standard baseball in the backyard (and sometimes into the neighbors yard!) His baseball playing evolved into the Little Knights traveling team for several years (Coach Digiambattista) and eventually to the freshman team at St. Thomas Aquinas High School.

Unfortunately a Ski Club fall on his right shoulder in 8th grade was the beginning of the end for Guillo's baseball playing; it would interfere with his ability to throw and eventually lead to surgery after his freshman year, but he never played organized baseball again. His "what do you want to be when you grow up" answer was that he wanted to play baseball for the St. Louis Cardinals. He did get to throw out the first pitch in a Major League stadium: after winning a charity auction his name was on the scoreboard at Progressive Field years ago when the Cleveland Indians hosted the Los Angeles Angels of Anaheim, where his favorite player Albert Pujols now played. Guillo threw the ball from the mound to the catcher LEFT handed because of his right shoulder injury. So in a way he did make the Big Leagues. He also played soccer for St. Thomas Aquinas as a freshman and junior, but his true love was always baseball.

Guillo also had the opportunity to travel, which began with visiting family over the years from the age of 3 to the Dominican Republic. He physically was able to be with 3 out of his 4 great-great grandmothers before they passed away. He was loved by his grandparents, cousins, aunt and uncles and enjoyed many adventures in the cities, countryside and the beautiful beaches of the Caribbean. Later travels would take him to Costa Rica, the National Parks (Glacier, Yellowstone, Acadia, Grand Canyon, Bryce, Zion), China (Great Wall, Forbidden City, Xi'an, Li River, Shanghai), Italy (Venice, Florence, Rome, Amalfi Coast), Greece (Athens, Meteora, Santorini, Mikaelos), Boston, Toronto and Las Vegas; as well as the numerous attractions of Ohio and Lake Erie. And he would go to Pittsburgh occasionally when his beloved Cardinals would be in town battling the Pirates.
Our beloved Guillo struggled with his depression for years, and despite his many travels and his adventures, he was always searching the meaning of how he fit in this world. His expressive language disorder led to frustration in how he communicated with friends, schoolmates, teachers, fellow workers and family. This weighed heavily on his mind and on his heart, and he confided in his mother that he wanted to have a better future, but that the way his mind processed thoughts made it impossible to do so. So sadly he withdrew because he didn't know how to handle his torment. He played the role of Pedro during his high school's presentation of Napoleon Dynamite, yet he found his role in life a challenge. Numerous family, friends, tutors, counselors and medical professionals encouraged him and tried to help him academically and socially over the years, and there were some victories. Yet like some succumb to cancer after years of struggle and treatment, so to our beloved Guillo lost his battle with mental illness.
The Sicard de Camps Family would like to thank all those who gave their time and love over the years to Guillo, especially teachers, tutors and coaches. Special thanks to the Rush family, Joe, Monica Richards, Alice, Wyatt, Jason from Giant Eagle, The Amigos and their families, Charo, Patricia Acra, MD and Ed Laubacher. The Norton Police and Fire Department and management of JR Wheel were very kind to our family during the search for our son.
Guillo leaves behind his adoring sister Cristina; cousins Anthony and Alec Talanca; numerous Dominican cousins: Maria Alejandra, Laura, Diego, Andrea, Lia, Mariano José and Mariana; aunts Julie, Sabrina, Laura, Griselle and uncle Mariano. Grandparents Maria Cristina, Emilia and Guillermo; family cat Cloudy; and his fellow companions at the Refuge of Hope, where Guillo spend the last several months of his life. Farewell to our beloved son and brother, and may God bless you with peace and eternal happiness.
Friends may call Monday from 4-7 p.m. at the Lamiell Funeral Home. Mass of Christian Burial will be Tuesday at 10 a.m. in Saint Paul Catholic Church (North Canton) with Monsignor James Clarke as celebrant. Burial will be in North Lawn Cemetery. In lieu of flowers donations may be made to Refuge of Hope, 405 3rd St NE, Canton, Ohio 44702.
To send flowers or a remembrance gift to the family of Guillermo Antonio Sicard de Camps, please visit our Tribute Store.
Previous Events
Visitation
Lamiell Funeral Home
1353 Cleveland Ave. N.W.
Canton, OH 44703
Service
Saint Paul Catholic Church
241 South Main Street
North Canton, Ohio 44720
Cemetery Details
Location
North Lawn Cemetery
4927 Cleveland Ave NW
Canton, Ohio 44709
Memorial Contribution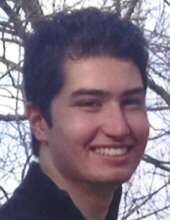 Thank you for sharing your
memory of Guillermo
Provide comfort by sending fresh
flowers from our local florist.
No thanks, please don't show me this again.